Our weekly schedule…
Awakened Soul Yoga is currently live-streaming all classes on the following schedule. Please register to attend a class by clicking on the class registration links below.

Download the Zoom mobile app on your phone – Apple App Store or Google Play. If you are using Zoom on your computer or laptop, the software should automatically download in your browser when you click the link to join. You can download it in advance here. It's free to join.

If you would like to attend classes on a casual basis or need to grab a new class pass, please scroll down to purchase before registering to attend. 

Once a class/pass has been purchased, please register by clicking on the links below to attend the class you're interested in and Zoom will automatically send you a link to join.



Awakened Soul Yoga offers the following classes at this time. Please choose the level that best suits your needs and we can always advise on selecting the best class for you. If you have any questions please contact Ondine at info@awakenedsoulyoga.com.au
Hatha Yoga
Hatha Yoga is a traditional and orthodox style of yoga consisting of different âsanas (postures) which when linked together, create sequences of movements. Together with correct alignment, breath control and stillness of pose, yoga has the ability to slow down the fluctuations (thoughts) of the mind, bringing the body and mind into a more equanimous and balanced space, essential qualities in a hectic and harried world which often over-saturates our senses and clouds our mental clarity.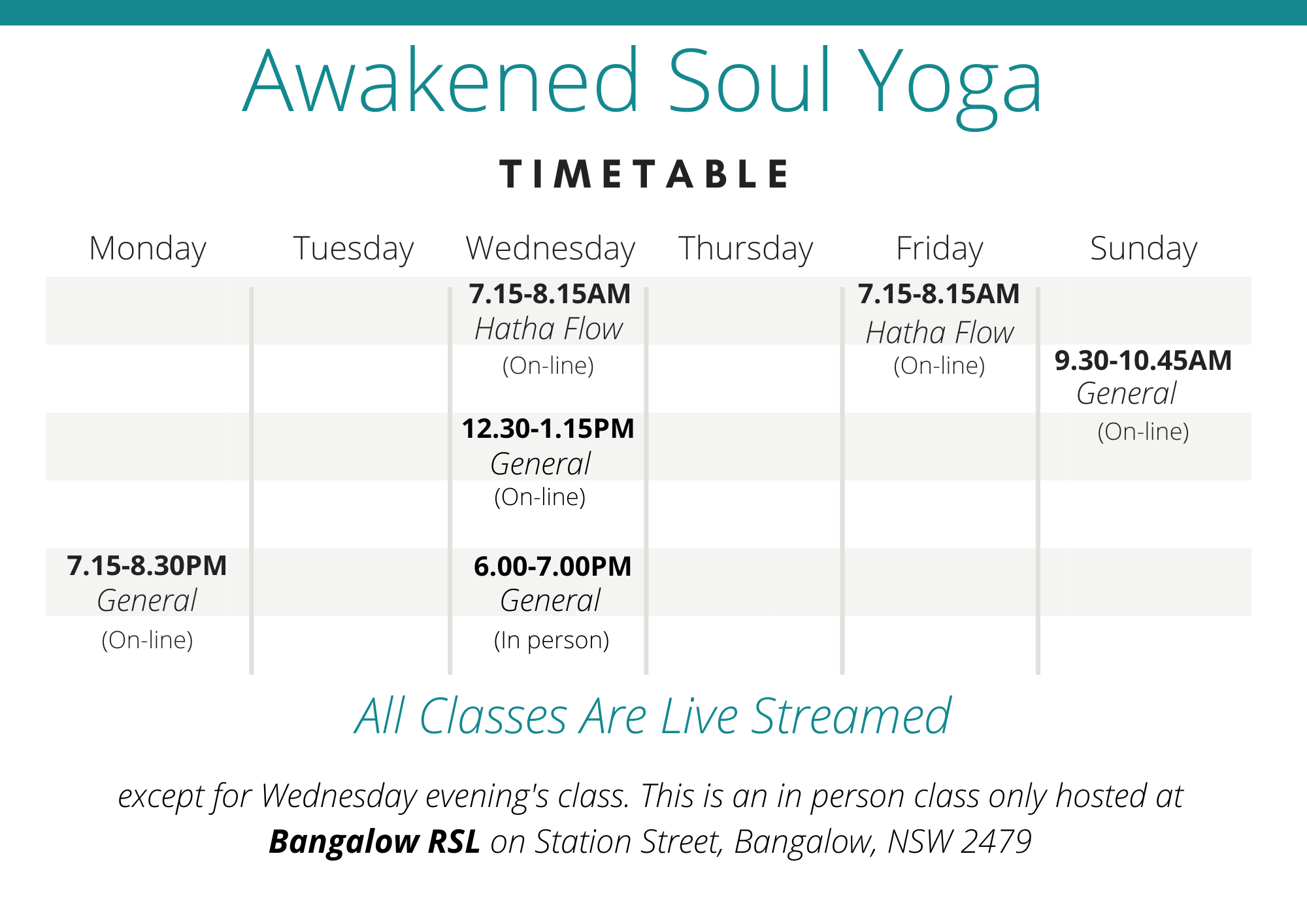 Please purchase session tickets here
10 Class Pass - Online Streaming Virtual Attendance (valid 3 months)
$197 (includes gst)
$197.00Add to cart

This class pass is perfect for those of you who would like to attend the studio's on-line offerings on a more regular basis. Now you can log in a few minutes before class begins from the comfort of your own home or attend classes virtually if you live interstate or overseas.
Unlimited Monthly Pass - Online Classes (valid 1 month)
$249 (includes gst)
$249.00Add to cart
Unlimited classes per calendar month for those who enjoy their regular yoga fix. Come to as many of the classes on offer every week. Consistency is the key to a progressive practice, so watch your body and mind positively respond to moving more often, it will love you for it! Better physical mobility, improved strength and flexibility are just some of the amazing advantages.
Casual On-Line Yoga Class

$22 (includes gst)
$22.00Add to cart
If you work from home, a quick lunchtime class during a break or between meetings could be just the remedy to help release any physical discomfort or tightness in your neck, shoulders and hips arising from sitting at your desk for extended periods of time. Let's get you moving a little, breathing deeply and relaxing. Hit pause, grab your mat and let's take some time out for your mental and physical health and wellbeing.
Casual In Person Class - Sydney - Sunday 10 July & 21 August 2022

$30 (includes gst)
$30.00Add to cart
Come practice with me in Sydney on Sunday 10 July and Sunday 21 August 2022. This class will be in person at Egg of the Universe Yoga Studio at the South Eveleigh Precinct, Alexandria. Stay for a chai and chat afterwards if you can. I'd love to see you.